Twilight Concerts 2018
Advance ticket sales now open! Fill your diary with fantastic shows for 2018.
The Twilight Concerts program is a series of six concerts held in Randwick Town Hall. It forms a mini festival of entertainment which can include music, film, dance and comedy and is carefully programmed to be family friendly.
This year our music performances come fully costumed, choreographed and theatricalized. You can dress up too and join the Starr Sisters in an air-raid shelter during the London Blitz. Enter the mysterious world of Keppie Coutts and solve the musical murder mystery. We welcome the return of Simon Tedeschi with Gershwin and me – back by popular demand. If you like dancing you will find three great opportunities to kick up your heels to live music. We are thrilled to announce Bernadette Robinson in Concert – back from her London premiere of Songs for Nobodies and bringing a specially tailored program to Randwick Town Hall.
Council is also happy to announce a special Family Group ticket price of $60 for two adults and two children between 5 and 12 years of age - and the price of an adult ticket has dropped to $20.

There is something for everyone in Twilight Concerts 2018 – all tickets available now with Eventbrite.

You can collect a copy of the 2018 Program PDF, 2289.62 KB at Council's Customer Service Centre and our libraries and our Concerts are also listed on Council's What's on!
International Women's Day Art Prize 2018
International Women's Day is a global day celebrating the economic, political and social achievements of women past, present and future.The Prize celebrates the creative talents of local women and gives the community an opportunity to enjoy an exhibition of their work at Randwick Community Centre with a 'best of the exhibition' continuing at the Lionel Bowen Library Gallery.
Each year Randwick Council celebrates International Women's Day by running the women's only art prize. This provides a platform for women who live, go to school, or work in Randwick City to showcase their achievements and creativity. This event is the Council's way of recognising and celebrating the important contribution women make to families, workplaces and communities.
2018 Prize Winners
12 to 19 years category
First Prize - Family Circle by Kayla Bennett - The Judges said that this is a subtle and highly accomplished painting. The artist skilfully uses a restrained colour palette and an asymmetric formal composition to reflect on her cultural heritage.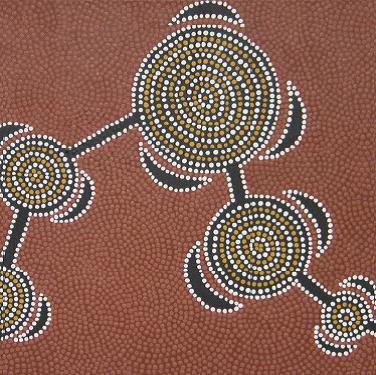 Second Prize - Amy dreaming by Amy Lynch - The Judges comments were that this is a highly thoughtful and sensitive drawing rendered with a skilful contrast of detail and negative space.
Third Prize - Abstraction of Scale by Venus Lacoste - The Judges said that this is a complex and beautiful work that demonstrates a clear understanding of harmony and use of colour in its design.
20 years and over category
First Prize - West MacDonnell Ranges by Christina Rofe - The palette of this painting captures the ever-changing colours of the West MacDonnell Ranges and the semi-abstracted execution reflects the essence of this dynamic and sometimes overwhelming landscape. The innovation of this painting is its vertical composition which allows the artist to visually describe both the details of the foreground vegetation and sublimity of the distant ranges.
Second Prize - Aussie backyard in summer by Jeanette Glass - Judges comments were, this collage beautifully encapsulates the casual, carefree and happy haven that is the suburban backyard in summer. The artist has cleverly combined photography and paint, ink and textiles to evoke a domestic scene that embodies the Australian vernacular.
Third Prize - Self-portrait by Melinda Hayton - The Judges said this painting is a self-portrait within a self-portrait of the artist's home and working life that seamlessly blends references to art history and art making. Symbolism is thoughtfully applied; the portrait's subject gazes outward flanked by a symbol of mortality on one side and a sleeping dog on the other.
Councillors Commendation - A piece of my imagination by Samantha Alvarez - We felt that this portrait cleverly uses back lighting to create a pensive expression which leads the eye down the cascade of fish and back up to the face of the young girl. We were left wondering, 'what was she thinking?
2017 Prize Winners
12 to 19 years category
First Prize - Casey O'Regan for Caitlin. The Judge felt that this painting demonstrates remarkable skill in handling the brush and the medium of oil paint. It is a slightly unsettling image as the viewer has no choice but to engage directly with the subject of the painting who seems to have a story to tell. The artist skilfully leaves the story making to the audience.
Second Prize - Heritage by Alyssa Silva Judge's comments were, A beautiful painting made complex through a refined system of mark making. The composition is interesting because it crops the subject as camera would, yet, at the same time, it highlights important traditions
Third Prize - Respect by Adena Sheps The judge said, "This new media work captures the spirit of International Women's Day. The graphics are reminiscent of the 1960s-70s when the second wave of feminism emerged creating a lively link between then and now. It's gutsy and we need more of this.
20 years and over category
First Prize - Winter at Wylie's Pool by Sandra Routh. This work shows excellent observations of perspective and the interaction of light, shadow and colour. Interesting because it is an observational work with hints of geometric abstraction. It seems to hold 'new world' promise in much the same way as is found in the work of 'David Hockney'.
Second Prize - Nerium by Yuko Takeshita Judge's comments were, A small painting abstracted by being painted on the bask of Masonite. Gentle in both execution and form. It captures those peaceful spaces still to be found in Sydney.
Third Prize - Relief by Alexandra Russell-Floyd The judge said, this work is an adventurous excursion beyond the conventional 'rectangle or square' format. The work locates itself in an interesting space between painting, clothing and the body. It's a little bit rebellious which is very fitting for International Women's Day.
Councillor's Commendation
Birdsong by Anne Ring We felt that this was a charming photograph.
2016 Prize Winners
20 years and over category
First Prize - Coastal Vista by Jan Cook The judges said this was a quiet and sensitive response to the landscape and showed great control of the medium.
Second Prize - Green Man by Lyn Campbell The judges said this was a well executed and composed mosaic showing creative flair.
Third Prize - Litchfield Swimming Hole by Betty Rovner The judges said this was an interesting contemporary response to landscape painting with hyperreal touches.
12 to 19 years category
First Prize - Marrow Graves by Yasmin Carter The judges said this was as engagingly complex and well balanced investigation of new media.
Second Prize - Aspite by Jasmine Trindall The judges said this was a great use of Space and symbolic imagery.
Third Prize - Reach for the Sky by Pia Michalandos The judges said this was a dynamic and surprising composition.
Special Award - Desire by Eliza Graaf The judges said this was materially engaging and an interesting visual critique of identity
Councillor's Commendation
Malala By Matraville High School Councillor Shurey and Neilson felt that this was an interesting and complex work which speaks to young women in particular and is highly appropriate for International Womens Day. This work is a collaboration made by students at Matraville Sports High School.
Congratulations to all our winners! Randwick City Council would like to sincerely thank the two judges for 2016 - Sylvia Ross from the UNSW and Sally Clarke, Artist and Manager of Air Space Projects.
Back to top