Merry Christmas from us to you
Published Date

23/12/2020

News Topic

Council
Shall we say it again? 2020 has been a challenging year!
We know for many in our community, life has been turned on its head - some businesses have struggled, work has dried up or changed, and seeing family and loved ones has been difficult. As the global pandemic took over the world, we at Council have tried to continue to serve our community, even when we had to change the way we did things.
For Council, the pandemic meant making changes and making them fast. We had to cancel one of our favourite festivals - The Spot Festival - and we all missed it. From there, all of our events were cancelled - library events, La Perouse Museum, fitness classes - everything was closed. We had to close beaches when social distancing wasn't possible, close playgrounds, swimming pools and sports fields. It was hard making all of these decision for a community that's used to being outdoors and being together, but it was necessary.
We know everyone felt the impacts and we want to take a moment to say thank you. Thank you for listening (even when the news wasn't what you wanted to hear) and thank you for doing your best to abide by the new and sometimes strange regulations that we were all trying to make sense of. We really appreciate it. As we move forward, we can't be sure things won't change again - but we're ready for what lies ahead.
So from everyone here at Randwick City Council, we want to wish you all a happy holiday season - however you celebrate! Merry Christmas! Happy Hanukkah! Feliz Navidad! Seasons Greetings and Happy New Year!
With that in mind, we'd like to leave you with a few festive ideas for the days to come!
Listen to the Mayor's message. Mayor Danny Said takes a moment to recap what went on in Randwick Council in 2020 and how our community grew stronger.
Explore the city! This year, in lieu of our typical Christmas events, we've adorned the city with festive decorations - they will all be taken down the first week of January, with everything dismantled by January 11, so try to get out to see them before then! Use our interactive map to find out where they all are.
Do it for the gram! Check out the 'Sweet Summer Fun' ice cream in Burrows Park at the north side of Clovelly Beach - a great place for a photo opportunity!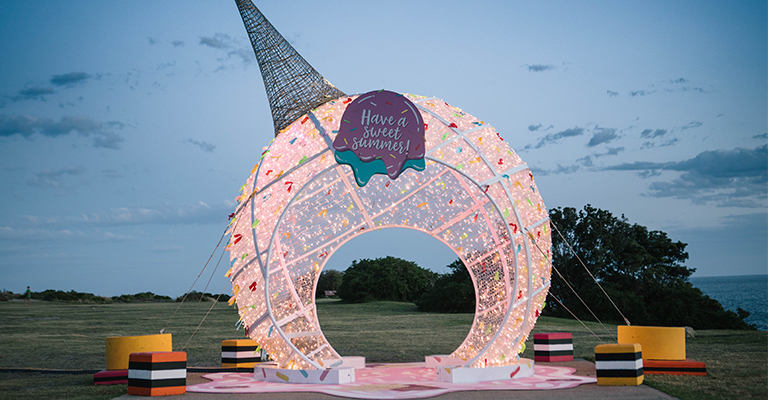 Fire up your imagination. Take some time to visit the window decorations in Kingsford - these motorised decorations are so detailed you'll find a new element every time you take a peek.
Make a trifle! This year, our Mayor Danny Said met with Miguel Maestre from The Living Room to learn how to make a Trifle for Christmas. We filmed them both so you can watch along! Download the recipe here and make it yourself.
We want to remind you, that if anyone out there is struggling - emotionally or financially - our community development team can help with advice and services. Please call us to discuss any difficulties you might be having.
From everyone at Randwick City Council, we want to wish you all a happy, healthy and safe holiday and summer period.
Back to top